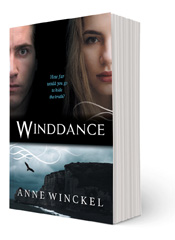 Winddance
This is a mystery novel for young adults set in 1943
on Wedge Island (in the middle of South Australia's Spencer Gulf) when there was one farming family and
a WWII camouflaged radar station with forty airmen.
This historically accurate novel follows two fictional characters. The back cover summarises the story:
IT'S 1943 AND WORLD WAR II IS RAGING – THE GERMANS ARE IN EUROPE – THE JAPANESE IN THE PACIFIC – AT HOME TROUBLE IS ALSO BREWING.
There are too many secrets on Wedge Island.
Sixteen year old Hannah Johnson is determined to get to the truth about her parents and their tragic accident. No one is talking, and her problems only multiply when she meets a nineteen year old airman who is on the run…
Paul Bolton can't believe his life is in danger at a remote air force base off the coast of South Australia. He has to prove his innocence and uncover the real conspiracy.
For both Hannah and Paul, the truth can only be found beyond the shores of the island.
Author Anne Winckel grew up on a farm near the Coorong in South Australia. She attended Meningie Area School from grade one to year twelve. Anne's father was a farmer who also loved to sail, and Anne regularly went fishing and sailing with her dad – often off Yorke Peninsula. Because Anne's grandmother shared stories of living on Wedge Island in 1937, Anne had started planning a novel set on the island when she was still at school. She wrote this novel a decade later.
Having left the novel in her bottom drawer for twenty years, Anne finally re-read the book, and was surprised to find she couldn't remember who the bad guy was! Anne is now pleased to share this story, which provides an intriguing window into some of South Australia's WWII history, sailing heritage, and island farming life. This novel also provides a fast-moving adventure which holds on to its mysteries to the end.